Loved By:






Boost Your Brand with Custom Logo Socks
Foot Cardigan's custom logo socks are a unique and creative way to showcase your brand and leave a lasting impression. Whether you're promoting your brand at a trade show, rewarding employees, or offering distinctive corporate gifts, our logo socks are the perfect solution. You can create socks that perfectly align with your brand's identity and values with various colors, styles, and materials. Try them out and see how we can elevate your brand to new heights!
Personalized Socks: Your Brand, Your Style
We know personalized socks are more than just a giveaway - we reflect your brand's personality and style. Our custom logo socks are a great way to showcase your brand, no matter your industry or how big or small your business is. You can choose from various colors, styles, and materials to create a unique and memorable product that your audience will love. Whether you want to reward your employees, attract attention at a trade show, or give cool corporate gifts, our logo socks are perfect. So why not try out Foot Cardigan's custom logo socks and take your brand to the next level? You won't be disappointed!
Foot Cardigan: Your Partner in Branding Success
Foot Cardigan is the go-to for custom logo socks, and we're experts in the field. Countless businesses have trusted Foot Cardigan to elevate our brand awareness, and we've always delivered top-notch, personalized stockings. Our team of professionals is committed to ensuring your logo looks fantastic on our socks, and we offer competitive pricing and speedy turnaround times to meet your marketing needs. You'll be in great company with Foot Cardigan's happy clients, who've seen our branding soar to new heights of style and recognition. So, let's get started on creating your custom logo socks today!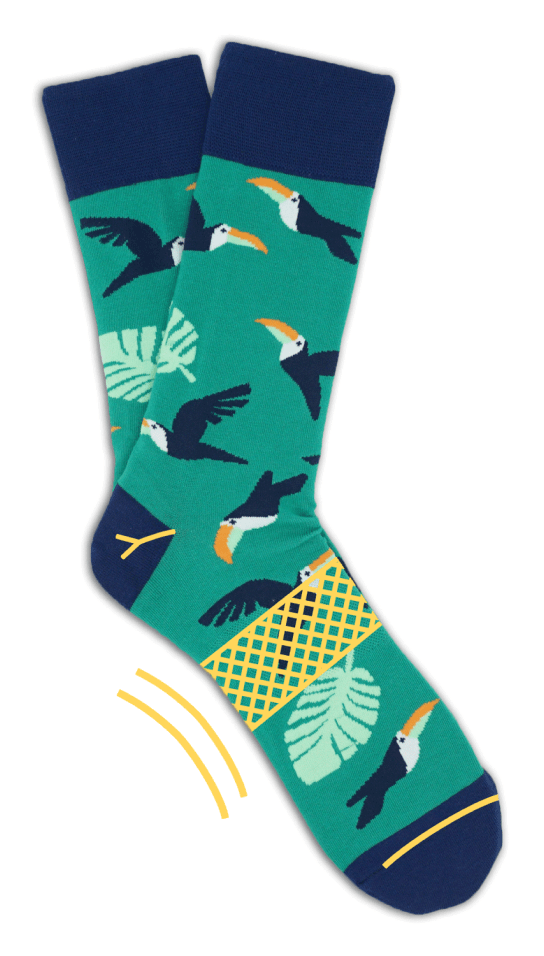 Highest Quality Custom Logo Socks
Fall in love with your first pair.
200 Needle thread count
Arch support
Bump-free toe
Y-stitched heel
Combed cotton
Reinforced heel & toe
Start your order
How to Make Custom Logo Socks
Get your Custom Logo Socks in 3 simple steps
upload assets
Send us your logo, design themes and let us know what the custom socks will be used for.
approve design
We will send you some custom sock design options. Once approved we will send you the invoice and begin production.
get your socks
Within 1-4 weeks of approving your order, we will ship your custom socks to you.
1-4 Week turn around time
Premium quality Custom Logo Socks
Transparent upront pricing
We can't wait to make Custom Logo Socks with you.
Our Custom Logo Socks process is super simple and is as easy as 1,2, 3! This is how we roll!
Request a Custom Logo Socks quote
Simply fill out the form below and we'll get in touch at a time and means that's convinvient for you. Its 100% hassle free.
Every order includes
free design mockups
12 Pair Minimums
1-4 Week Turn Around Time
premium quality socks
Transparent Upront Pricing
Transparent Upront Pricing

"Our custom socks from Foot Cardigan were a great employee gift."