Loved By:






Unlock Your Unique Style with Custom Ankle Socks
Are you tired of wearing plain and boring socks? Look no further than the Foot Cardigan! Our ankle sock printing allows you to create unique and personalized stockings for any occasion. Whether you want to showcase your brand or add a personality to your outfit, our state-of-the-art printing technology guarantees precise, vibrant designs with endless possibilities. You can easily elevate your sock game from bold graphics to intricate patterns. So, why settle for ordinary socks when you can have custom ankle socks from Foot Cardigan?
Quality Ankle Socks for Every Occasion: Personalize Your Style!
Our socks offer maximum comfort and durability with every step, made from premium materials. Our custom ankle socks are made from premium materials for maximum comfort and durability. Whether you're hitting the gym, lounging at home, or dressing up for a special event, our ankle socks are designed to keep your feet cozy and stylish. Our printing process is eco-friendly so you can feel good about your choice. Choose from a variety of sock colors and sizes to suit your preferences. Order your custom ankle socks today and experience the difference in quality and style!
Experience the Difference with Custom Ankle Socks from Our Crafters
At Foot Cardigan, personalized experiences make all the difference, especially when it comes to custom ankle socks. That's why we offer an easy-to-use online design tool that allows you to bring your unique vision to life. And if you need inspiration or guidance, our design experts are here to help you every step of the way. We take pride in our quick turnaround times and competitive pricing without sacrificing quality. Whether you need a small batch for a special occasion or a large order for your business, we've got you covered. So why settle for dull socks when you can up your style with Foot Cardigan socks?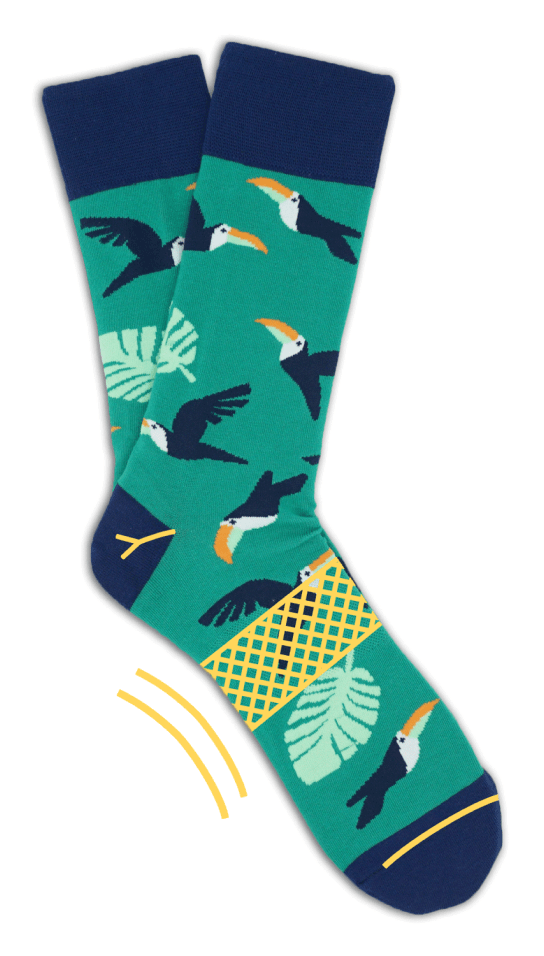 Highest Quality Custom Ankle Socks
Fall in love with your first pair.
200 Needle thread count
Arch support
Bump-free toe
Y-stitched heel
Combed cotton
Reinforced heel & toe
Start your order
How to Make Custom Ankle Socks
Get your Custom Ankle Socks in 3 simple steps
upload assets
Send us your logo, design themes and let us know what the custom socks will be used for.
approve design
We will send you some custom sock design options. Once approved we will send you the invoice and begin production.
get your socks
Within 1-4 weeks of approving your order, we will ship your custom socks to you.
1-4 Week turn around time
Premium quality Custom Ankle Socks
Transparent upront pricing
We can't wait to make Custom Ankle Socks with you.
Our Custom Ankle Socks process is super simple and is as easy as 1,2, 3! This is how we roll!
Request a Custom Ankle Socks quote
Simply fill out the form below and we'll get in touch at a time and means that's convinvient for you. Its 100% hassle free.
Every order includes
free design mockups
12 Pair Minimums
1-4 Week Turn Around Time
premium quality socks
Transparent Upront Pricing
Transparent Upront Pricing

"Our custom socks from Foot Cardigan were a great employee gift."