Loved By:






Bring Out Your Potential with Personalized Sports Socks
Foot Cardigan's custom sports socks are a must-have to take your sports performance to the next level. Our expertly crafted designs provide targeted cushioning and support for your comfort during even the most intense training sessions and competitions. Moisture-wicking materials keep your feet dry and blister-free so you can stay focused on the game. With options for different sports and customizable lengths, colors, and designs, you can show off your team spirit or personal style. Don't let your socks hold you back – upgrade to Foot Cardigan today.
The Intersection of Innovation and Style
We know that performance apparel should do more than just serve its purpose - it should also make a statement. Our custom sports socks strike the perfect balance between function and style. With various vibrant colors and design patterns, you can create socks that perfectly match your team spirit or personal branding. Whether you prefer ankle-length socks for a sleek look or knee-high socks for added compression and protection, our customization options cater to your needs. Our sports socks are a great addition to your outfit and a way to boost team morale and show off your dedication and passion.
Quality and Craftsmanship You Can Trust
The Foot Cardigan delivers the best durability and quality for custom sports socks. Our socks are crafted with top-notch materials and the latest manufacturing techniques to maintain our shape, elasticity, and bright colors, wash after wash. Our commitment to excellence goes beyond function and fashion - we strive to provide our customers with an exceptional experience from start to finish. From ordering your customized pair to slipping on your one-of-a-kind socks, you'll appreciate the care and attention to detail that goes into every step. With Foot Cardigan's custom sports socks, you can elevate your game, showcase your unique style, and experience unparalleled comfort that goes above and beyond.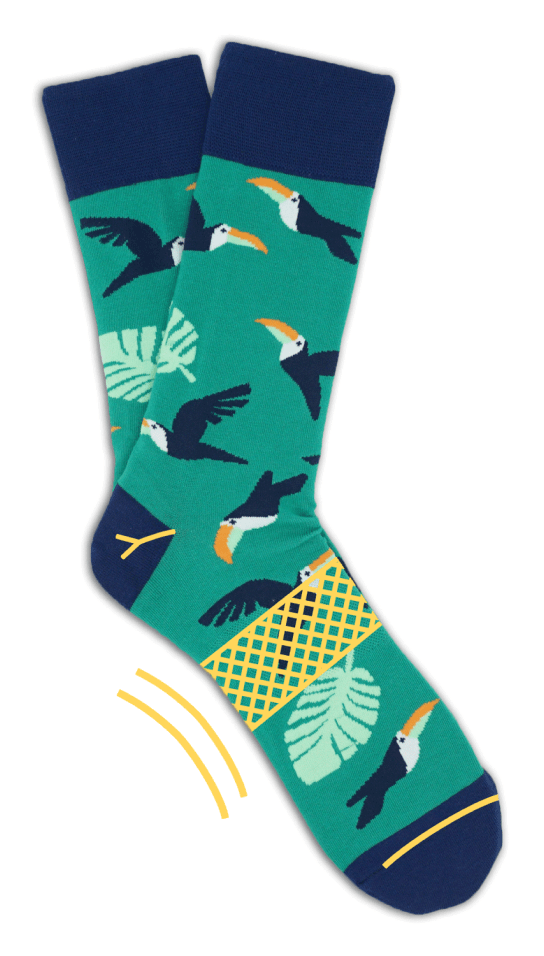 Highest Quality Custom Sports Socks
Fall in love with your first pair.
200 Needle thread count
Arch support
Bump-free toe
Y-stitched heel
Combed cotton
Reinforced heel & toe
Start your order
How to Make Custom Sports Socks
Get your Custom Sports Socks in 3 simple steps
upload assets
Send us your logo, design themes and let us know what the custom socks will be used for.
approve design
We will send you some custom sock design options. Once approved we will send you the invoice and begin production.
get your socks
Within 1-4 weeks of approving your order, we will ship your custom socks to you.
1-4 Week turn around time
Premium quality Custom Sports Socks
Transparent upront pricing
We can't wait to make Custom Sports Socks with you.
Our Custom Sports Socks process is super simple and is as easy as 1,2, 3! This is how we roll!
Request a Custom Sports Socks quote
Simply fill out the form below and we'll get in touch at a time and means that's convinvient for you. Its 100% hassle free.
Every order includes
free design mockups
12 Pair Minimums
1-4 Week Turn Around Time
premium quality socks
Transparent Upront Pricing
Transparent Upront Pricing

"Our custom socks from Foot Cardigan were a great employee gift."